THE BRAND
Cecilie Bahnsen operates at the intersection of couture and ready-to-wear to create luxury clothing with a relaxed, timeless style. Celebrating the traditions of fine French fashion and the design culture of Scandinavia, each piece brings forward a contemporary take on femininity. Unique fabrics are hand-designed in Cecilie Bahnsen's Copenhagen studio to create clothes with unexpected combinations of softness and structure, minimal and maximal, perfect and imperfect. Our aim is to develop a world of pieces that can be cherished for years, passed between friends, reinterpreted and restyled to express the individuality of the wearer.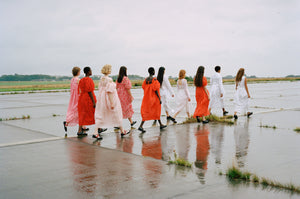 PHILOSOPHY
The uniquely feminine and modern universe of Cecilie Bahnsen mixes emotion, romance and inherent beauty with the openness, simplicity and pragmatism of the designer's Scandinavian heritage. It's thinking about women in a new way, attuned to her life. Clothes made for movement with fabric lighter than air that drifts across skin like clouds. Clothes handcrafted with mastery of the old ways, bringing the intricate details of couture into everyday life. Clothes to treasure but above all clothes to wear, not to be precious about. Clothes for high days, holidays and for every day. Clothes to share, to lend, to pass on.


"For me, there is power and strength in romance and femininity. I make clothes for women to feel comfortable, strong and independent. I started out in London and Paris and the romance and the detail is the inspiration I bring from those cities. But always with the Scandinavian minimalism and ease that is me. It needs to feel effortless."

– Cecilie Bahnsen, Founder and Designer
THE DESIGNER
Founder and Creative Director, Cecilie Bahnsen


Born just outside Copenhagen, Cecilie attended the Danish Design School, where she become an assistant to the Danish designer Anja Vang Krag and worked on opera costumes for The Royal Danish Theatre and freelance projects for Christian Dior. After graduating in 2007, Cecilie took an internship with John Galliano where she was later hired as a print designer and first line assistant. In 2010, she studied as part of the MA programme at the Royal College of Art in London and a year later became a design assistant at London based womenswear brand, Erdem. Cecilie returned to Copenhagen in 2015 to launch her eponymous label.
COMPANY
Cecilie Bahnsen is a female entrepreneur building an independently owned company, initially out of a reimagined basement office in Copenhagen. Since it's beginnings, the team has expanded to a kinship of over 30 people, working on a global scale. Now the ambitious team has moved to an expanded office in the inspired neighbourhood of Østerbro reflecting the successful growth of the brand. Cecilie Bahnsen presented their first live show as part of Paris Fashion week for FW22 and remain on the official Paris Fashion Week calendar.
STUDIO
In the summer of 2022, Cecilie Bahnsen's studio moved to a new home. The space, spread across two floors, is designed using elements that showcase the brand's history and collaborative ethos, while creating space for new memories to come. As the first new home since the independently owned brand launched, Cecilie Bahnsen's studio now acts as the primary showcase of the brand's universe.
DESIGN PRINCIPLES
Femininity & Romance


Embracing the power and strength in romance and femininity. Creating clothes for movement, using unique fabrics that are distinctly Cecilie Bahnsen. Mixing emotion, romance and inherent beauty with openness and simplicity. Individuality, posture, stance, and emotion bring the silhouettes to life, each person with a unique interpretation.
Wearability


Made to be worn, lived in and loved - never to be precious about. Dresses created with passion, to be worn throughout all moments of life, inviting couture details into the everyday. Lifelong pieces created with unique fabrics to be cherished and collected, never discarded. Inherently timeless, to be worn, shared and ultimately, passed on.
THE PEOPLE WE WORK WITH
As the Cecilie Bahnsen universe continues to grow, the brand expands its vision alongside creative voices dear to the ethos held at the core of Cecilie Bahnsen. Collaborating with photographers, artists, and designers who have worked with the brand since its humble beginnings while continuing to build up a network who have become dear friends of the brand.
RESPONSIBILITY
Cecilie Bahnsen's approach to responsibility is a personal one, shaped by genuine beliefs and dreams.
Learn More