CECILIE BAHNSEN WELCOMES A NEW HOME FOR HER BRAND
Expanding from the brand's original studio and first home at Kristianiagade, Cecilie Bahnsen is pleased to welcome a new address for her brand at Vermundsgade 38C, in Copenhagen's inspired and creative Osterbro neighborhood. Spread across two floors, the reimagined office and studio is designed in unison by renowned architects Stamuli, the brand's longtime creative agency MOON and Cecilie herself.
Initially discovered by Cecilie Bahnsen when photographing her Spring Summer 202 campaign in the uncovered space, the interior is focused to showcase the brand's soul that is expressed within the modern fashion house. Located in a typical industrial building, the 1.20 m2 space, with concrete flooring and exposed ceilings, the intention was created to develop a contrast between the architectural shell of the space and the hyper feminine world of Cecilie Bahnsen.

The ground floor is characterized by a combination of floating white walls and concrete columns that organically create space for communal workflows. Revealing the inner workings of the office, partitions made of glass and white framing house office and meeting rooms for the team. It is additionally home to the brand's showroom, which invites the Cecilie Bahnsen community in for the first time for private appointments. Allowing for a glimpse of day to day life in the brand's universe.

The top floor is home to the creative soul of the brand. Here, the design studio and atelier is housed under a lofty vault ceiling, allowing for natural light to peer into the space from above. The space is divided into two symmetric volumes by a cladded mirror, reflecting the light and works of the space.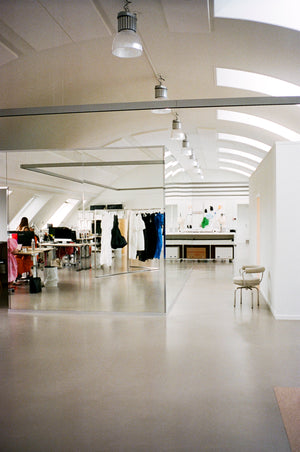 Overall, the approach to the interior is minimal, adorned with furnishings that are reflective of Cecilie Bahnsen signatures. Patchwork curtains are present throughout the space, composed of up-cycled fabrics — memories from past seasons — which follow the same thread of conscious consumption as Cecilie Bahnsen's Encore collection. The furniture and kitchens, custom made by a local carpenter and previous collaborator, create a vibrant place for the entire team to gather over lunch. Office tables and lamps are sourced from another on-going collaborator and friend of the house, Studio x, while Paustian's plush seating adorns the space across the floors.

Other long time partners and collaborators also make their mark in the brand's new home. From Magniberg's sleek stainless steel furnishings, to Nina Nørgaard's fluid glassware. Artek stools are placed throughout the studio space, re purposed from previous runway shows. All coming together to create a whole vision that complements the collections.
The space invokes a sense of unfamiliar familiarity for Cecilie Bahnsen. With elements that showcase the brand's history and collaborative ethos, while making room for new memories to come. Taking on its role currently as the first new home since the independently owned brand launched, and acting as a primary showcase of Cecilie Bahnsen's visual DNA. A new expansive space which can now become a home to host events, showcases, and becoming a place of culture and design in Copenhagen on an international level.

"Moving to a big new space is such a statement for the brand and reflection of where we are today and what the future can hold. Finding a new studio and home for the brand came with similar emotions to that of finding the right show location. A space that reflects our Scandinavian approach, minimal, industrial and one that perfectly acts as a blank canvas for our collection and romance of the clothes to sing. The airy and light space with its high ceiling and beautiful daylight has been a dream to start working in. Being an independent brand I'm so proud of what we have achieved in the last 5 years and excited to open and share our universe in this new space."
- Cecilie Bahnsen